Tiny Closet? No Problem!
When we moved into our current home, we noticed that the bedroom closets were itty-bitty. Thankfully, we have an entire extra room we can use as a walk-in closet, but one day it might turn into a little one's bedroom. For now, though, we each store our clothes in our own dressers, the tiny closet, and two mobile clothing racks.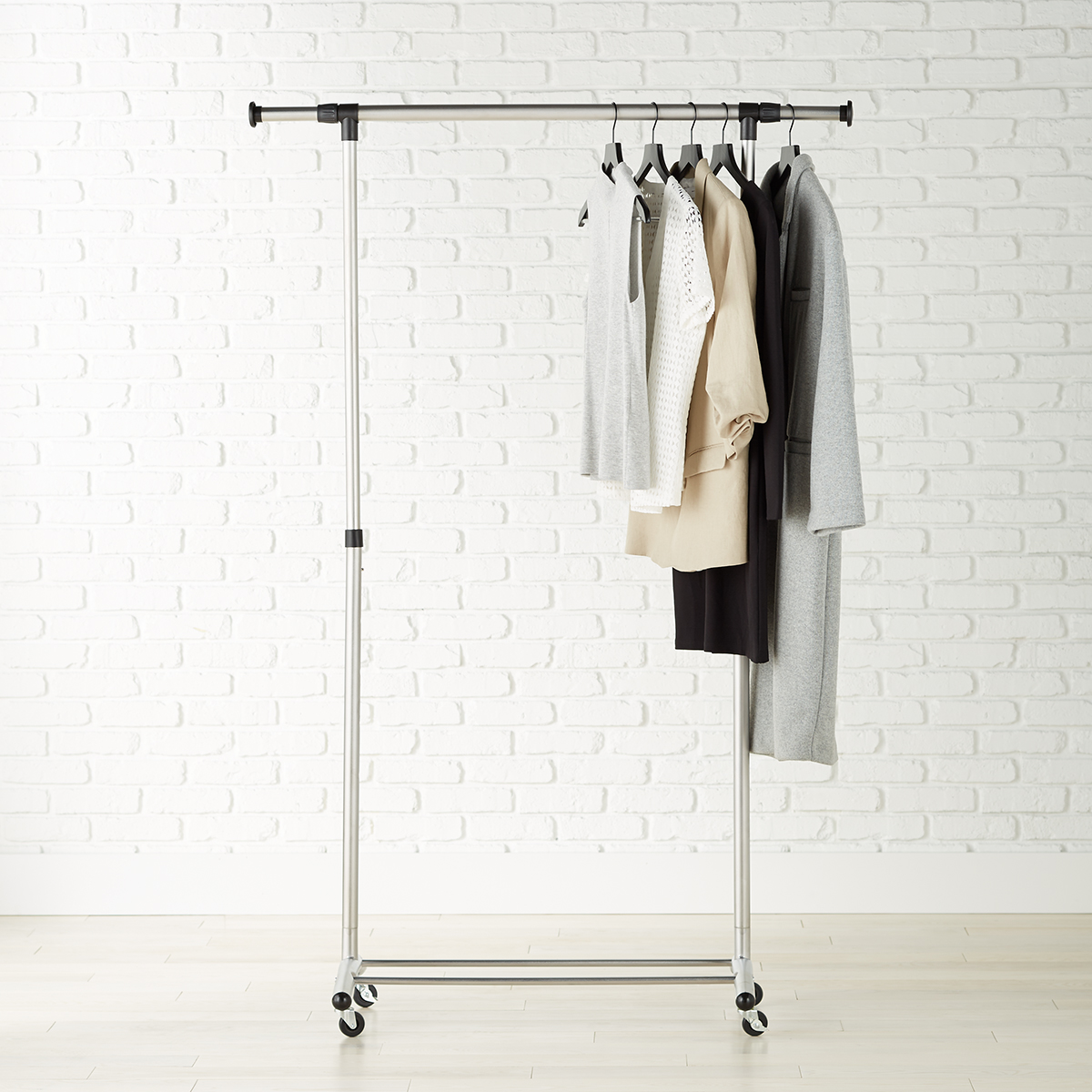 You can find clothing racks like these anywhere—The Container Store, Target, Walmart, Bed Bath & Beyond. They're fairly inexpensive and easy to assemble. And if you don't have a large closet but have a bit of space in a room, a clothing rack serves as perfect way to organize your clothing.
In order to store as much as possible and keep things organized, we got creative by storing a shelf in the tiny closet (OK, maybe it's more obvious than creative). My husband hangs his work shirts and suits in the closet, and stores his folded work out gear on the shelves.
I use a shelf as a place to fold and store my jeans and high heels. And if you want to be super frugal, like we try to be with organizational storage, just use what you already have or borrow what you might normally discard.
Own or find a shelf that isn't aesthetically appealing, or maybe is a bit chipped? Use it to store clothes in your closet—no one will ever see it, and as long as it's functional, there's no reason to trash it. In fact, if you want to have an adventure, go search for functional pieces in someone else's trash! OK—don't actually dig through someone else's trash, but don't be afraid of functional furniture people leave in an alley or by the side of the road. With a bit of soap and water, it can easily become a way to store your shoes, clothes, or bags.
So, if you have a small closet, add a shelf. If you have no closet, find a spot to store a mobile clothing rack. Most importantly, make sure you only own what you need and what you love wearing; don't try to keep or organize clutter.
---
Liked this post? Subscribe to Meaningfully Organized to receive new posts via email.
Everybody likes to be organized and everybody needs to be organized. But everybody's idea of being organized is different. Some people like color-coded boxes and bins;…
What's the deal with souvenirs? I've never understood the point of someone lugging back some bizarre ceramic toad or shark's tooth or fertility vase to give to…
Labor Day is over. That means your white pants and bathing suits are neatly folded and boxed away until Memorial Day 2017, right? Or maybe you're a…
During my recent move, I donated a large box of kitchen goods—2 turners, 5 wooden spoons, 2 spatulas, a set of mixing bowls, wine glasses, etc.—and kept…
Need a meal for either lunch or dinner that is not only simple, but also delicious and healthy? Here's a delightful dish inspired by Mediterranean favorites. Served…
Again, before you decide that a home, apartment, car, anything isn't worth it, remember how much a coat of paint or a bit of elbow grease can…
On January 1, 2016, I decided to go on a six month shopping ban. My goal was to not buy any clothes, shoes, jewelry, makeup, or accessories for…
Our budget was small. Tiny. Like, I have a garden gnome in the backyard, and our budget could have been the gnome's overcoat it was so small….
The remodeling is done! Okay, that's a lie. It's not done. We still need to finish a few more things in the kitchen, tile the upstairs bathroom, and…
With the warm summer sun finally here, it's the perfect time to host a sophisticated summer brunch with friends. I recently enjoyed a delicious brunch with my friends…